6 Channel 5.1 Hi-Fi Bluetooth Stereo Amplifier 800 Watt AV Home Speaker Subwoofer Sound Receiver w/USB RCA COAX in 4K UHD TV Amplifier
5.1 Channel Home Theater Surround Sound Audio Stereo Receiver DSP Digital Powerful Audio Amplifier support HDMI DTS Dolby
Features of the Wireless Bluetooth Power Amplifier:
*5.1 Channel: The 6 channels Channel Hi-Fi Home theater receiver is Perfect for Your Home Entertainment system
*Bluetooth compatible: The Professional Integrated high Powered stereo receiver is equipped with BT wireless music streaming;
Works with today's latest devices including Smart phones, iPhone, iPad and computers with hassle Free receiver pairing
* 4K UHD TV Support: The AV digital amplifier is equipped with 4K Ultra HD TV, 3D and Blu ray video pass through support with dedicated RCA subwoofer output;
Connect and stream audio/video from external devices via USB, RCA, 3 HDMI, optical/digital audio.
*INTEGRATED EQUALIZER and DSP: The compact amplifier has buttons for the audio sources and selectors, rotary knob for equalization and master volume adjustments.
A remote control is also included in the package for distant audio adjustments.
*MULTIPLE INPUTS: The integrated indoor stereo amplifier receiver supports inputs: BT, Optical, RCA, HDMI,COAX, USB
*RS232: Can be connected to computer for process control.
*Product dimension:430x335x90 mm.
Specification of the Bluetooth audio power amplifier:
| | |
| --- | --- |
| Product name | AMP5.1 DSP Blue-tooth power amplifier |
| Output power | 50W X 5+150W |
| Peak output power | 800W |
| THD | < 0.05% (@ 1kHz) |
| S/N Ratio | > 95db |
| output noise | < 1mv |
| Input sensitivity | 580 mv |
| Frequency response | 20-20K Hz |
| Work efficiency | more than 85% |
| Class type | Home Class D power amplifier |
| Product working voltage | AC 110-240V/50Hz |
| Number of channels | 5.1,5 speaker outputs,1 subwoofer output |
| Input methods | BT,RCA,USB,Optical,COAX,HDMI |
| Finish color | Black, White, Silver |
| Amplifier panel material | Aluminum |
| Net weight | 11 KGs |
Products pictures of the 5.1 channel power audio amplifier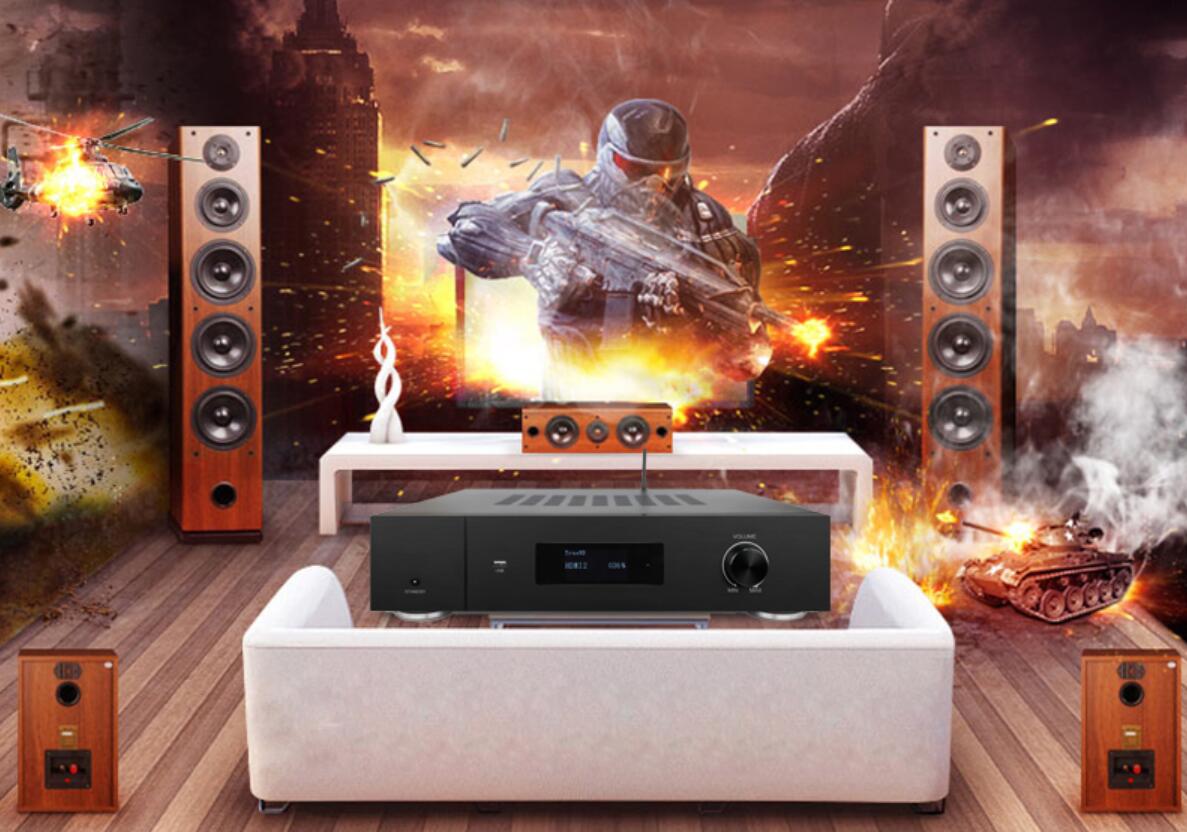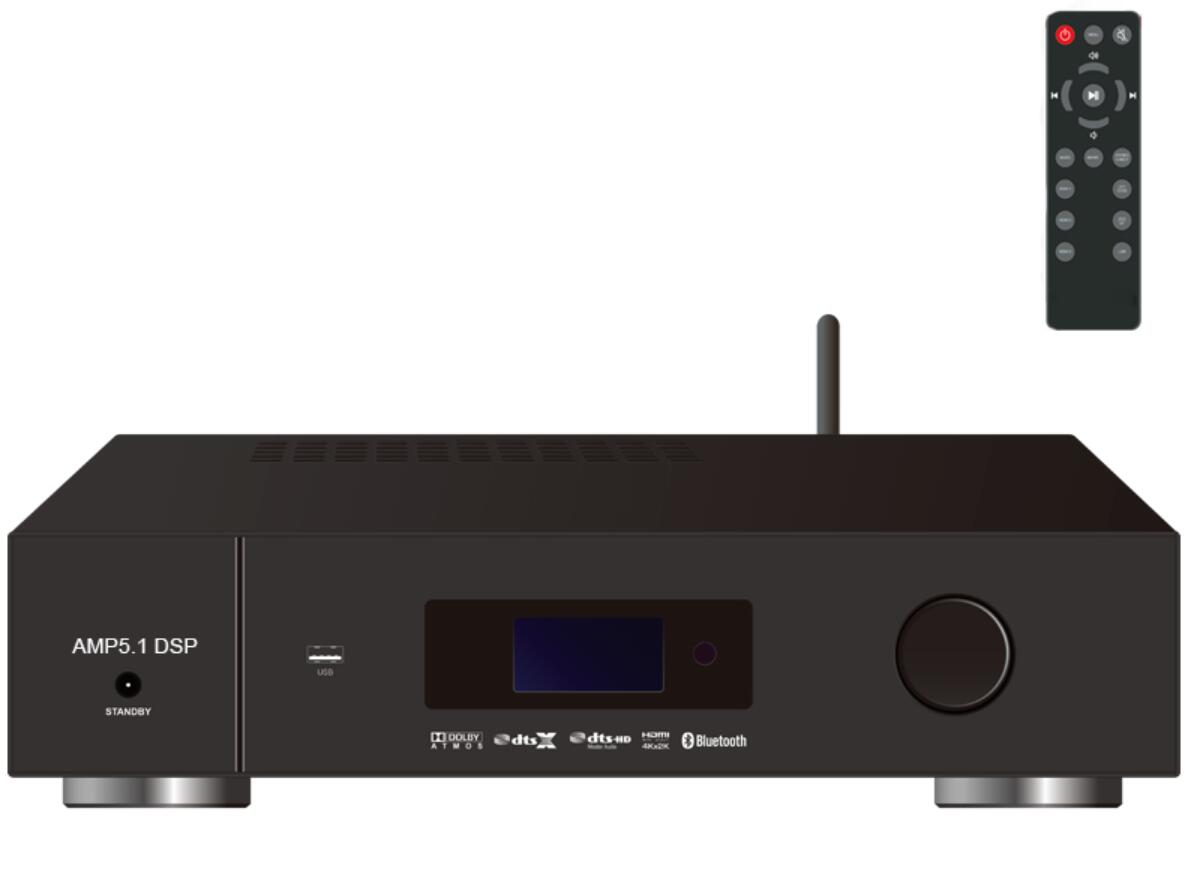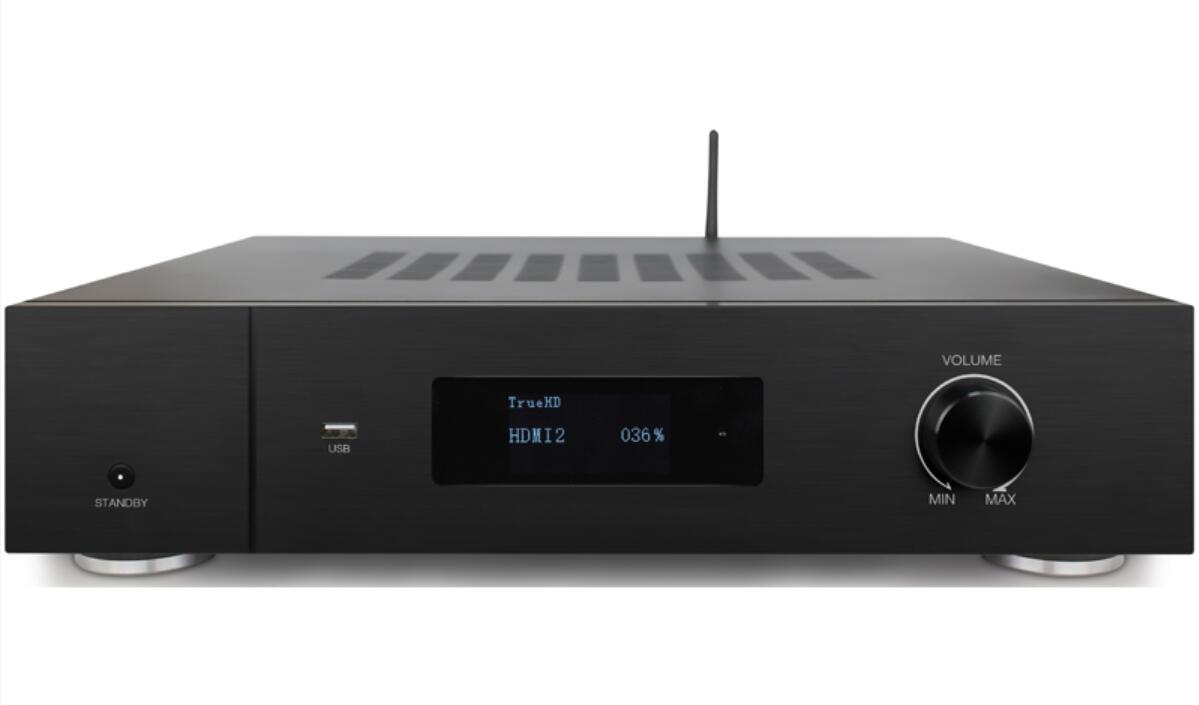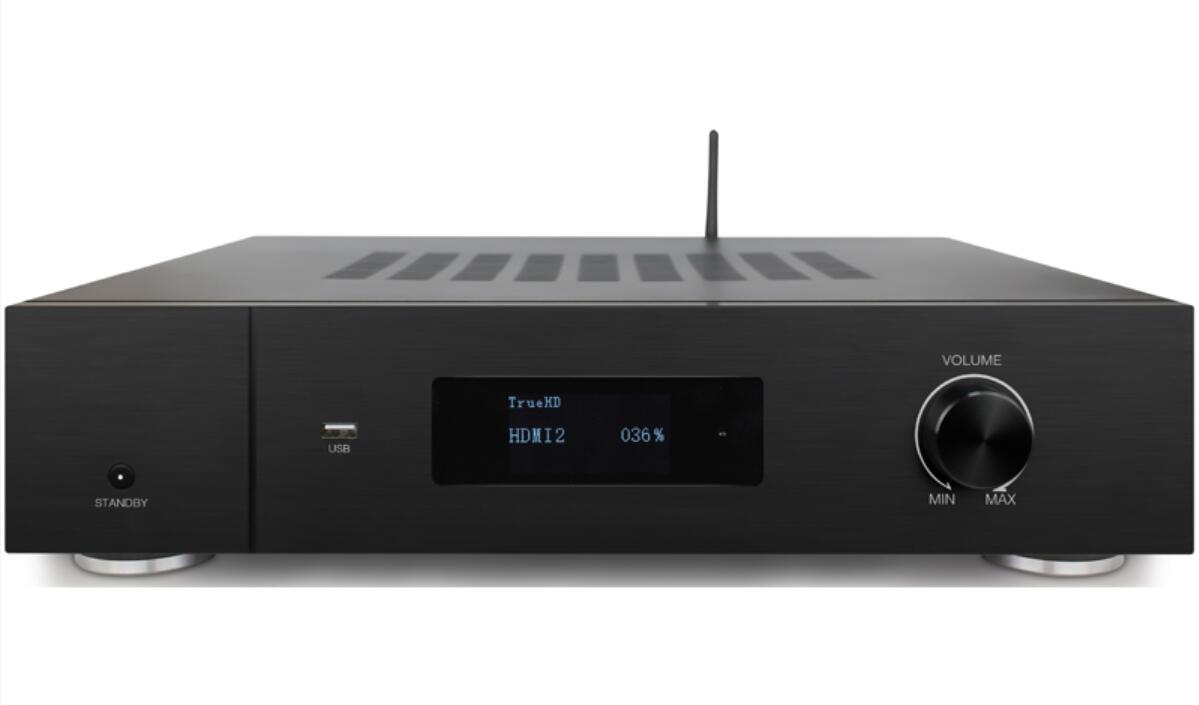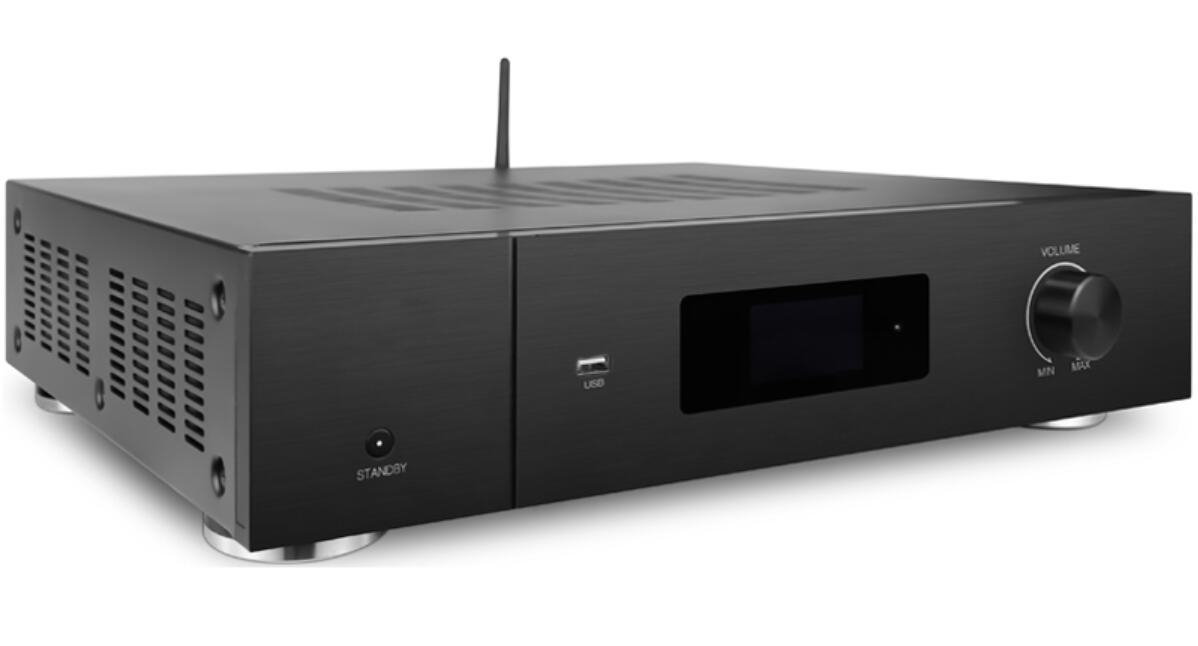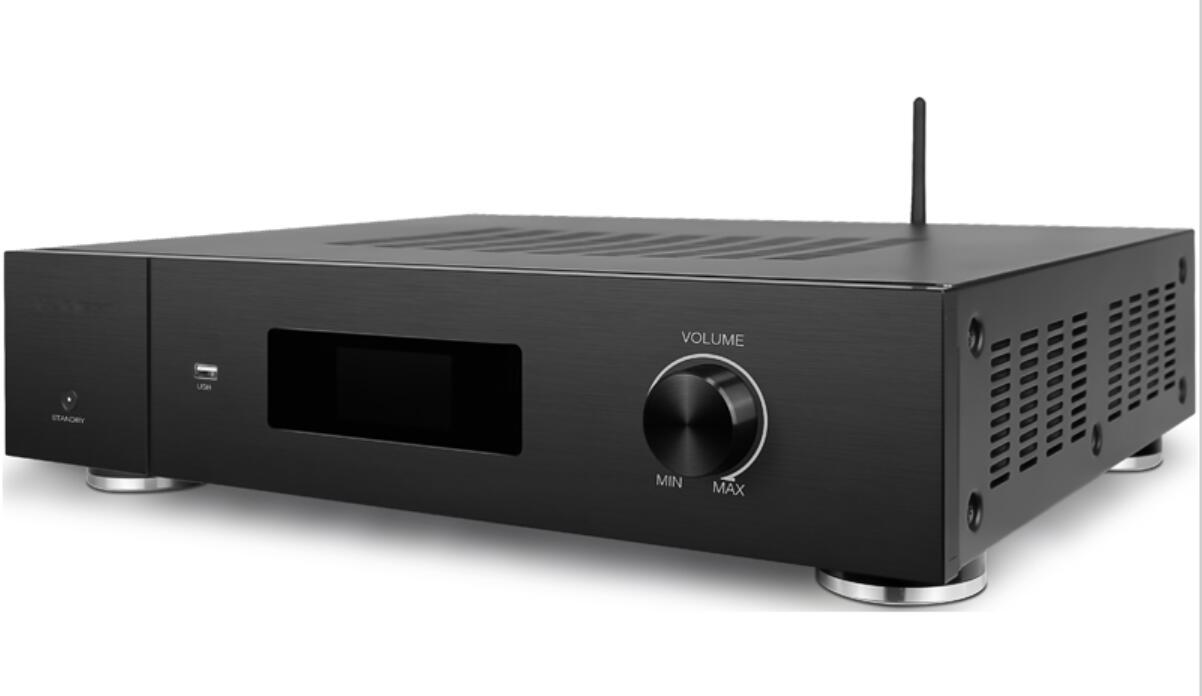 Function of the high power amplifier:
Front panel
1.STANDBY:This key allows the machine to enter on or standby mode.
2. VOLUME:This control button is used to adjust the volume of the decode
3. USB:This interface is used to read the interface connected to external memory (such as U disk, etc.).
4. DISPLAY SCREEN:Display screen can display current volume, input mode and other information.
Rear Panel
1. Bass output volume control knob: Increase VOLUME clockwise, decrease VOLUM counterclockwise.
2. Bass output bandwidth adjustment knob: Increase frequency width clockwise, decrease frequency width counter-clockwise.
3. Bass output phase switch: Witch to 180 degrees to reverse the PHASE 180 degrees.
4. SUB OUT: The signal of this interface can be connected to the active woofer.
5. ANT.: This is the BT antenna of the machine, which can enhance the communication distance of BT.
6. SPEAKER OUT: Right front, Left front, Right rear, Left rear, Bass .
7. Coaxial input: Can connect to CD, VCD, DVD L/R output interface.
8. Audio signal input: It can connect to the L/R output interface of CD, VCD and DVD.
9. OPTICAL: Connects to CD, VCD, DVD and other devices with OPTICAL fiber digital audio.
10. HDMI IN: It can connect three output devices with hd signal at the same time and play one hd signal. The three hd signals can be switched according.
11. HDMI OUT: Can be connected to HDMI input interface TV, projector, etc.
12. RS232: Can be connected to computer.
13. POWER SWITCH: Used to turn power on or off.
14. Power Socket:Connect the power cord supplied at random here and connect the other end to a suitable wall socket.